MANIFESTO OF THE SECRET ACTIVISM ︎︎︎
I believe it is possible to create new, positive stories about the world. Stories that will teach us how to live on Earth "gently and without leaving a trace", how to be attentive in the world. Visual language has a huge potential for communication, it allows us to build an intelligible and accessible message across divides. I keep wondering how to use it wisely, how to use it well.
My inspiration comes from activists - people who rebel and protest, often risking their health and lives. My way of expression, however, is not so direct. I admit - I don't find enough courage in myself, needed for such confrontation. My attitude also stems from a feeling that subtle but consistent action can really be effective. I believe that unlike open protests it has a chance to reach a slightly different group of people, broadening the reach of the message.
Some time ago, while looking through the texts of Mikołaj Smoczyński, I came across a description of a series of works called The Secret Performance. He wrote: "I have never been a performer (...) I have not found in myself enough courage, nor that specific shamelessness that are necessary to perform in front of an audience. (...) my actions were always thought for the medium of photography only. They were an experience of one". Being an activist requires similar character traits as being a performer. Like Smoczynski, I am not quite able to find these traits in myself, and yet I feel a strong need to join the voices that oppose the anthropocentric vision of the world. So I do it in my own way, which allows to find mere traces of my protest. The Secret Activism is an area of my research/exploration.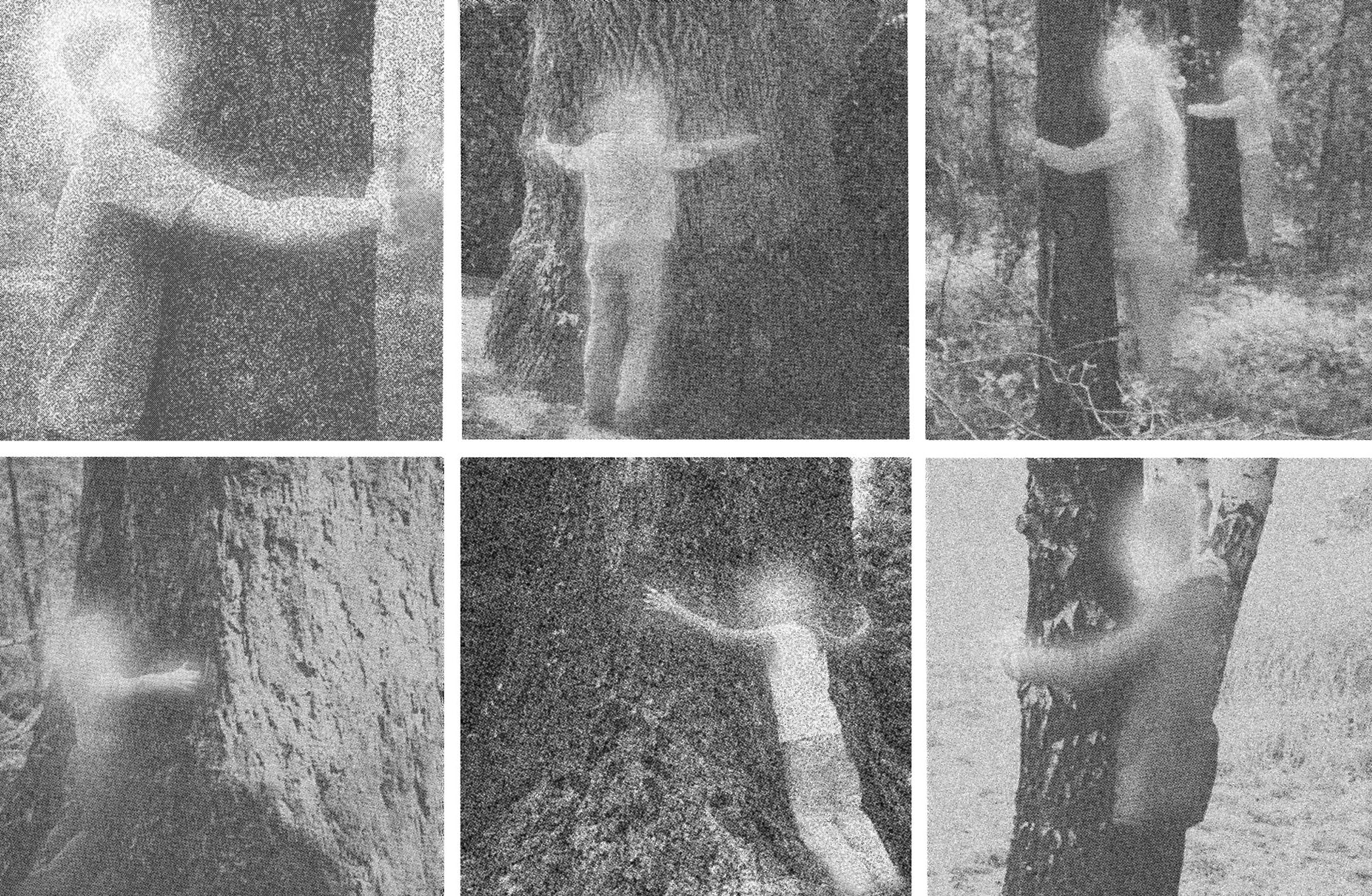 I am currently working on two complementary series of works. Polish Landscape refers to the situation in Polish forests, where the forest industry is trying to turn old, valuable forests into monocultures, grown only to produce boards. This is a harmful action for all of us - unacceptable at a time of impending climate catastrophe and the sixth extinction of species. Part of this project means spending a lot of time in the forest, wandering around and taking photographs. At the same time, I find many pictures on the internet of people hugging the trees. They embrace them tenderly, with care. I save these photographs and alter them so that facial features, details of clothing become blurred, colours fade. The silhouettes begin to radiate with an inner light, to resemble each other, to merge, as if they belonged to one mysterious tribe.
I have used secret activism to define my own attitude, but I think it can describe the activities of many people, not only in the field of visual arts. It is a supplement, an extension of activism. It encourages us to co-create new stories about the world that will help us to empathise and collaborate.
MOVIE ABOUT DEFORESTATION ︎︎︎
Michalina W. Klasik: Visual artist and secret activist. In her actions she is guided by the idea of decolonising nature. A graduate of the Academy of Fine Arts in Katowice, she has a doctorate in fine arts. She cooperates with artists and activists from different parts of the world, who deal with issues of deep ecology. Finalist of Open Out Festival in Norway and What's Next for Earth project run by Millenium Alliance for Humanity and the Biosphere. Currently in residence at GlogauAIR, Berlin.